Isn't It Risky to Buy Book Report Online?
People still can't trust the internet resources on 100% because you never know what you are going to get. It's become especially uncomfortable to provide the resources with your personal information in regards to the recent information leaks.
It may seem that as long as there are no legal sanctions and corresponding laws protecting customers from this kind of insecure approach, there will be no guarantees of safe usage of the online resources. If you are afraid of information disclosure and losing your anonymity when ordering a book review or book report here, you can relax. Our service gives the clients numerous guarantees including a confidentiality one.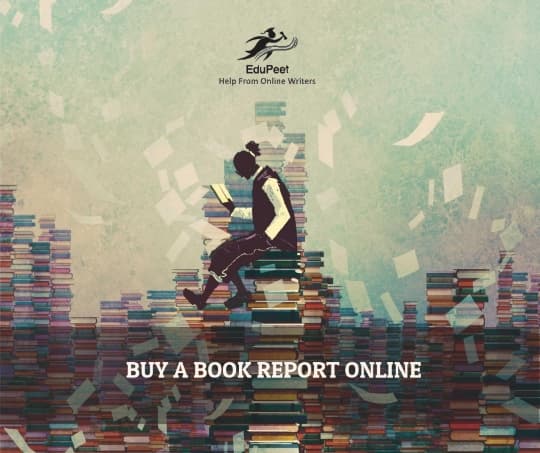 It means that we will not use your personal information un any way without asking your permission to do so. We are open about the ways we can use it - to make your experience using Edupeet more effective. You may read all the legal statements on the website and inform yourself about our policy.
It is understandable that you might lack time to do so when placing an order, so we advise you to check this info beforehand. And as to the urgency of your order, you can be sure to get it on time. The experts we cooperate with have a tremendous experience in writing book reports with the speed of light (or maybe a bit slower).
More Guarantees?
Of course! Our college book report writing help is one of the safest online services you can find on the web. If you are not a big fan of the copied content (and who is), then you will be pleased to know that we offer a plagiarism-free guarantee. No matter what topic and book you need us to analyze, one of the things we can promise you is that it will be original. Writing everything from scratch is our main principle.
There is one more thing worth mentioning when we are talking about the quality issues. Tastes differ and you might not be fully satisfied with the content you receive. In that case, you can use multiple revision sessions to get the result you need. Just discuss the details and requirements with the writer in advance.
Writers are the main factor in the quality of a book review or report. You are in charge of the choosing process and can pick the writer you want. Firstly, you make your request clear: "Somebody, write my book review". Then, you see the list of experts ready to assist you and choose the one you like. The process is simple and quick.
Note that the price of the order depends on the writer you pick. There are native English speakers, those who have years of experience, beginner writers, and other categories. Rely on the significance of the paper you order and its urgency to make the right decision. Let Edupeet.com make your problems go away. Don't waste your time on boring reports and reviews!
Overall, when you don't choose to cooperate with freelance writers directly, you get more guarantees. The risk of such cooperation is minimal because big companies often attract the attention of student by offering them a long list of guarantees. When hiring a freelance writer, you can never be sure if the book report you get meets your expectations. Only in case of hiring a responsible writer, you get the chance to ask for revision and make suggestions on what to change content-wise. Alternatively, when you choose a writing company to help you, you always have the right to have as many revisions as you need. The writer will make all the necessary alterations for free. Meanwhile, a freelancer may charge extra costs for that.
The only thing you need to remember about EduPeet.com is that we are the safest choice for you. You will never experience turning in a plagiarized report because we carefully check the uniqueness of every paper we deliver. You can rely on the years of our experience and relax. If your goal is to decrease the risks in your life and stay calm, this company is the right choice for you.
Book Report Topic Ideas
Some students do not consider the possibility of choosing a topic for a book report as being lucky. You still have to write a massive paper even if you have the chance to write it about something interesting. Sometimes the process of choosing a topic can take forever. To save your time, our experts have prepared a list of topics you can use for inspiration. You may find the books worth reading and writing about:
Herman Melville, Moby Dick.
Mark Twain, The Adventures of Huckleberry Finn.
Stephen Crane Maggie, A Girl of the Streets.
Ernest Hemingway, A Movable Feast.
Theodore Dreiser, Sister Carrie.
Jack London, The Sea Wolf.
Gertrude Stein, Three Lives.
Claude McKay, The Tropics in New York.
F. Scott Fitzgerald, The Great Gatsby.
Ernest Hemingway, The Sun Also Rises.
William Faulkner, Light In August.
John Steinbeck, The Grapes of Wrath.
Tennessee Williams, A Streetcar Named Desire.
Geoffrey Chaucer, Prologue to The Legend of Good Women.
Charles Dickens, Oliver Twist.
Charlotte Bronte, The Professor.
Robert Louis Stevenson, The Strange Case of Dr. Jekyll and Mr. Hyde.
Oscar Wilde, The Picture of Dorian Gray.
Henry James, The Portrait of a Lady.
Arthur Conan Doyle, The Adventures of Sherlock Holmes.
William Shakespeare, Much Ado about Nothing.
William Shakespeare, Hamlet.
James Joyce, A Portrait of the Artist as a Young Man.
George Du Maurier, Trilby.
Virginia Woolf, The Wave.
Stéphane Mallarmé, "Crisis in Poetry".
Franz Kafka, The Trial.
Thomas Mann, Death in Venice.
Walter Benjamin, "The Storyteller".
Samuel Beckett, Waiting for Godot.
How to Write a Book Report without Reading the Book?
The first answer that comes to mind is that it's impossible. However, we all know that impossible is nothing so let's consider several ways of writing this kind of paper without having to spend a lot of time on reading. Let's be honest, some of the assigned books are too long and boring. Living in the era of digital innovations, it is a crime to spend your valuable time on something you do not enjoy doing.
Look for the information online. The chances are, someone has already written a summary of the book you need to read or made a short video. We all understand that these methods will not give you an objective and informative view of the book. Nonetheless, if your goal is just to pass a course without harming your GPA too much, it is a good option to do so.
Ask someone to give you a short summary. If you are dealing with the kind of book that is not popular and you can't find the information about its contents online, ask someone to give you a summary of the most important events/points/ideas. Again, you will be able to save time but the paper you are going to write might not be as good as you would like it to be due to the lack of information.
Use our service. It might be a bold statement to make but we are the best option to write a book report without reading the book. Our experts will read it (or most probably have already read it before). No matter how tight the deadline can be, you will get your order on time. Most importantly, you know what you are going to get. The grades will not disappoint you as our writers try very hard to meet the most sophisticated requirements.
How to Order Your Book Report
Send us the filled order form.
Choose an expert who will write your book report.
Chat with your writer to give him/her guidelines.
Get your book report.
Evaluate the writer's performance.
One of the reasons you might need our help with writing a book report is the lack of time. You won't have to read a massive literary piece and write a substantial paper about it if you ask our experts for their assistance. We've done everything for our clients to get the book report they need as fast as possible. You won't waste time on any intermediaries because you can communicate with writers directly. You can choose a writer who has a relevant background and the necessary skills to write a flawless book report. If you don't want to go through the troubles of finding a suitable expert, our system will match you with the best candidate automatically. Enjoy the list of guarantees we offer and safely use Edupeet.com.
Fill out an order form and look through the list of writers who are willing to help you.
Chat with them to learn more about their skills. There will definitely be someone who specializes in your topic.
use the chance to get a preview of your book report. You can evaluate the skills of every writer.
Choose the candidate you feel good about and monitor the progress.
Discuss the details of your book report with the writer and mention all the specific instructions you have.

Get your book report in the preferred format. Leave your review of our service.

Buy book report service by EduPeet is rated 4.8/5 based on 15 customer reviews.